KCM Center of Minimal-Invasive and Endoscopic Neurosurgery of the Spine
Contact us:
M: +48 535 098 999
M: + 44 20 3348 8270
Our Minimally Invasive Spine and Neurosurgery Center from the beginning was one of KCM's strongest focus. The reputation it holds sets the benchmark worldwide.
KCM Hospital is now one of a few centers worldwide for cervical spinal endoscopy, with experience of about 3000 endoscopic spinal procedures.
KCM is organizer of international conferences for minimally invasive spine surgery, with life surgery broadcasts from operating room.
The treatment performing using newest small invasive and endoscopic techniques greatly improves the safety and accuracy rate and reduce complications risks and recovery time.
Our specialized spine and orthopaedic physiotherapy is fully set up to support recovery after all spine surgery procedures.
Minimal invasive SPINE SURGERY
SED YESS Selective endoscopic discectomy, posterolateral approache, 1 level
CESS - Cervical Endoscopic Spinal Surgery, anterolateral approach
CESS - Cervical Endoscopic Spinal Surgery, posterolateral approach
PLDD percutaneous laser disc decompression, posterior lateral approach, 1 level
DIAM Dynamic Spinal Stabilisation MEDTRONIC, posterior approach, 1 level
Herniated disc removal - Laminectomy / Hemilaminectomy, posterior approache 1 level
Percutaneous cervical nucleoplasty using coblation technique, 1 level
Percutaneous lumbar nucleoplasty using coblation technique, 1 level
Percutanaeus implantation of flexible DiscGel Prothesis - cervical spine, 1 level
IDET (Intradiscal Electrothermal Therapy - intradiscal thermonucleoplasty, 1 level
Vertebroplasty
The main benefits of endoscopic minimal invasive surgery
The endoscopic access makes it possible to preserve all stabilizing structures –
ligaments, muscle and vertebrae
Because the operation is so gentle, normally only a light anesthetic is required
Patients can get back to their day-to-day activities considerably quicker
What is a herniated disc?
Discs are shock absorbers for the spine. They feel soft and elastic. Externally  they have a solid fibrous ring, called annulus fibrosus, while inside they are made up of a jelly or jelly-like, viscous mass – the nucleus pulposus.
The aging processes or overstraining can cause tears in the fibrous ring. Parts of the nucleus pulposus can then be pressed out through the fibrous ring and compress the spinal cord or a nerve root in the spinal canal. In these cases, doctors talk about a herniated disc or a prolapsed disc.
How does a herniated disc occur?
Turning the body in a jerking motion or heavy lifting can trigger a herniated disc. It can also be the consequence of a poor sitting posture, minimal movement, or an unbalanced diet. Lack of fluid dries out the discs and they then lose their elasticity and height. Other causes may include obesity, pregnancy, or general weaknesses in the connective tissue.
What does a herniated disc mean for me?
If tissue from the nucleus of the disc enters the spinal canal, it doesn't always lead to symptoms. Only if the surrounding nerves become trapped does it cause serious radiating pain, sensory disturbances or even signs of paralysis.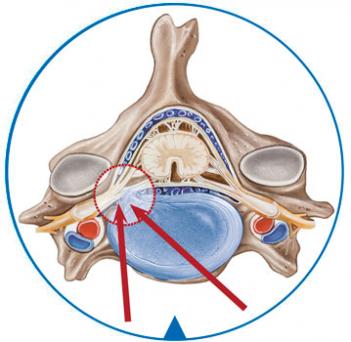 What is spinal stenosis?
Spinal stenosis (stenosis = narrowing) involves a narrowing of the spinal canal which is located inside the spine. This structure made from surroundingmuscles and bone ligaments structures protects the soft spinal cord and the nerve fibers which stretch into the arms, torso, and legs. If the spinal canal is constricted, the nerves are compressed and this causes pain in arms and/or legs. As well as causing pain, the pressure on the nerves
can also result in sensory disturbances (e.g. numbness, prickling) or a loss of strength in the arms and/or legs. The lumbar spine is the most frequently affected area of the spine.
How does spinal stenosis occur?
It is generally a combination of several factors that causes spinal stenosis to express symptoms. The most common causes of a constricted spinal canal are wear on dorsal vertebrae after many years of strain and the aging of discs. This leads to growth of vertebral bone spurs, or osteophytes, which cause a narrowing of the spinal canal. However it is also possible to be born with spinal stenosis.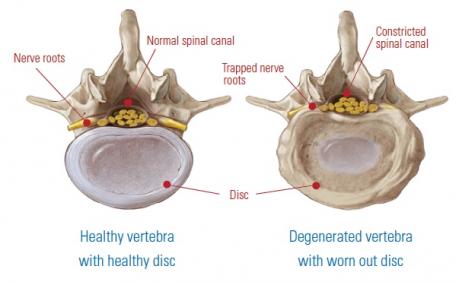 What does spinal stenosis mean for patients?
Symptomatic spinal stenosis generally means a considerable restriction to your quality of life. People affected often experience intense pain in their legs which is elevated when they stand and walk. Generally this pain goes hand in hand with sensory disturbances and, in severe cases, even with loss of strength, which often considerably limits the ability to walk. Sitting tends to quickly relieve symptoms, as does a bent posture. Cycling is therefore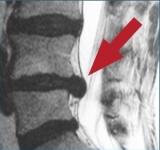 often still possible, or activities where you can lean forward – for example mowing the lawn. Before the operation, your doctor will first examine you thoroughly, ask you about your pain level and arrange for an imaging diagnosis. Generally this will be with Magnetic Resonance Tomography (MRT) and sometimes also
Computer Tomography (CT). One major benefit of the microtherapeutic, endoscopic method is that, unlike other procedures, it can principally be carried out under local anesthetic and simultaneous analgosedation.
CESS - Cervical Endoscopic Spinal Surgery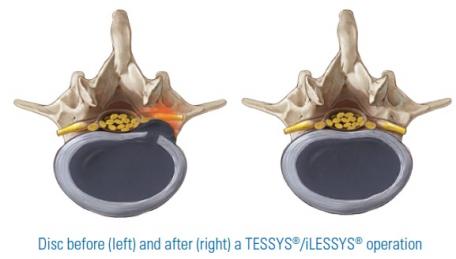 Herniated disc on the cervical spine
Herniated discs and spinal canal restrictions can also occur on the cervical spine, but this is much less common than on the lumbar spine. The causes and impacts are similar: pain radiates into the neck and arms, and loss of strength and numbness in the arms can also be signs of nerve constrictions.
As with the lumbar spine, conservative therapy is also the first choice of treatment with the cervical spine. Only when that fails and no improvements are recognizable the decision will be made to proceed with an operation.
Cervical endoscopic nucleotomy belongs to minimally invasive treatment of cervical disc herniations.
It uses an anterolateral approach through the disc space directly to the site of herniation. The intervention can be carried out either under general anesthesia or under monitored anesthesia care (MAC). MAC is generally associated with less anesthesia risks and offers the advantage of immediate patient feedback if there is any contact with the neural structures."
Indication:
The technique is indicated for the minimally invasive treatment of cervical disc herniations. It uses an anteriolateral approach through the disc space, directly to the site of herniation. Under endoscopic visualization, the compressive disc material can be removed. The small diameter of the cannulas allow an atraumatic access and the removal of herniated disc material with specialized forceps. Additionally, a radiofrequency probe for tissue ablation and hemostasis is available.
Advantages of cervical endoscopic nucleotomy:
• The intervention is minimally invasive, very gentle and can be carried out under monitored anesthesia care (MAC)
• By preserving the disc, the natural structure of the segment is preserved
• No laminotomy required
• Small incision and minimal scarring
• No spinal cord manipulation due to a ventral approach
• Short recovery period
• Minimal blood loss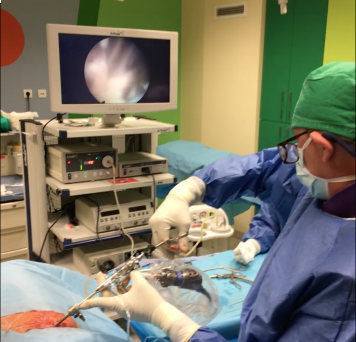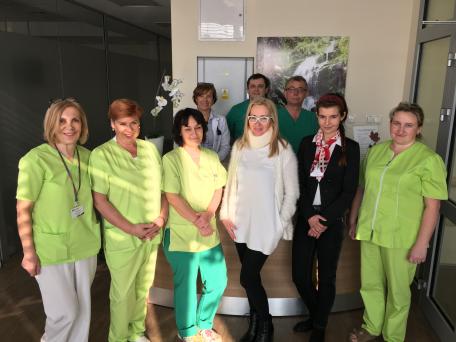 Why choose CESS?
CESS is one of the most cutting-edge and minimally invasive endoscopic procedures in the world. KCM Clinic is one of 7 Hospitals in the world to perform it.
Who in particular is CESS applicable for?
Patients in particular benefit from CESS microtherapy, as the disc can be retained in most cases, avoiding disc replacement or fusion with implants in the affected spine section.
What is the DIAM® Spinal Stabilization System?
The DIAM® System implant is a dynamic stabilization product that can be used in conjunction with a decompression procedure to
treat buttock pain and radiating leg pain. The core of the DIAM® System is made of silicone. The outer mesh and tether are made of polyethylene terephthalate (polyester). The crimp is titanium. The first DIAM® System surgery was performed in 1996. Since then, thousands of implants have been used in patients all over the world.
What are the potential benefits?
The benefits of surgery are relatively clear. When the procedure goes well, the patient may experience less pain and return to most of their normal activities. The potential advantages of surgery with the DIAM® Spinal Stabilization System include:
Resolution of painful symptoms

Increased spinal stability

Preservation of movement

Minimally-invasive procedure. Implant design is compatible with minimally invasive procedures

An alternative to spinal fusion

Fits between the interspinous processes and functions as a shock absorber that reduces loads on the

surrounding vertebrae

Only requires a small incision to implant

Reduced scarring

Shorter surgery time

Decreased recovery time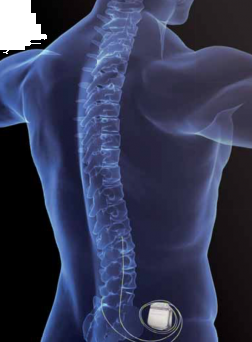 Who is a candidate for the DIAM® Spinal Stabilization System?
The DIAM® System is indicated for use in skeletally mature patients undergoing surgery of the lumbar spine for spinal stenosis associated with low back pain.
Who should not receive it?
The DIAM® System should not be implanted in patients who have an active infection, an allergy to silicone, polyethylene terephthalate or titanium or who are pregnant.
How is the surgery performed?
The DIAM® System surgery is performed with the patient lying on his or her stomach. An incision approximately two centimeters long is made along the back of the spine. An instrument called a retractor is then used to pull back the muscle and tissue so the surgeon can view the spine. The surgeon will prepare the area for the implant by removing only the necessary interspinous ligament and potential bony overgrowth. A series of templates are used to select the appropriate sized DIAM® implant. The surgeon will then implantthe device between two spinous processes. The spinous process is the portion of the vertebrae that protrudes from the back of the spinal column. They create the "bumps" that you can feel along the middle of your back. Two laces, or tethers, allow the surgeon to fasten the DIAM® implant to the adjacent vertebrae to stabilize itand optimize strength. The operation is completed when the surgeon closes and dresses the incision.
What can I expect after surgery?
Ask your doctor about your specific recovery plan following surgery. It is important to follow your doctor's instructions carefully so you can recover from surgery as quickly as possible and increase your potential for a successful outcome. Recovering from back pain and surgery is an ongoing process. How fast you recover depends on the type of surgery you had, your commitment to working closely with your physical therapist and to moving and exercising correctly, as recommended by your surgeon. In most cases, immediately after surgery your heart and lung function will continue to be monitored. A drainage tube may remain in your incision and your doctor may prescribe medications to control pain and nausea. A nurse will show you how to care for your incision before you are sent home, and your doctor will discuss a program for gradually increasing your activity. You may be required to wear a back brace after surgery, and you may be advised to avoid repetitive bending, lifting, twisting and other physical activities while you recover. You may also be cautioned to avoid vibrations, such as those you might experience when driving a car, for a period of time after your surgery. Your doctor will schedule follow-up visits to monitor your recovery and see if any additional treatment needs to be done. After surgery, your surgeon may refer you to a physical therapist who will teach you exercises to improve your strength and increase your mobility. The goal of physical therapy is to help you become active as soon as possible, using safe body movements that protect your spine. This often includes abdominal strengthening exercises. You may also be taught different ways of standing, sitting or lifting to avoid re-injuring your spine.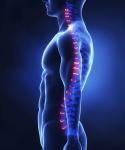 SED YESS -

Selective endoscopic discectomy:

Selective Endoscopic Discectomy (SED) - is a minimally invasive spine surgery technique that utilizes an endoscope to treat herniated, protruded, extruded, or degenerative discs that are a contributing factor to leg and back pain. The endoscope allows the surgeon to use a "keyhole" incision to access the herniated disc. Muscle and tissue are dilated rather than being cut when accessing the disc. This leads to less tissue destruction, less postoperative pain, quicker recovery times, earlier rehabilitation, and avoidance of general anesthesia. The excellent visualization via the endoscope permits the surgeon to selectively remove a portion of the herniated nucleus pulposus that is contributing to the patients' leg and back pain.

This combination procedure and the endoscopic system used to perform the unique procedure is pioneered and developed by Dr. Anthony Yeung, with instruments developed with the Richard Wolf Instrument Company. (YESS – Yeung Endoscopic Spine Surgery system).

 
FLEXIBLE GEL PROSTHESIS OF THE NUCLEUS PULPOSUS DISCOGEL®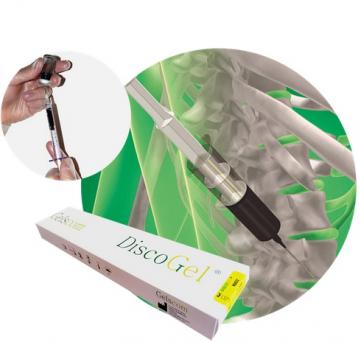 For percutaneous implantation in the treatment of hernia in the cervical, thoracic and lumbar spine with local anesthesia
DISCOGEL® is a gel implant impervious to X-ray based on ethanol and cellulose-derived products, injected percutaneously to the nucleus pulposus.
It's operation is based on two activities: mechanical, which causes the migration of the fluid inside the disc thanks to the hydrophilic properties of DISCOGEL® and decompression of neural structures and biochemical blocking the receptors that generate pain.
Result: immediate pain reduction in the vast majority of patients.
Adventages of DISCOGEL®
EFFECTIVENESS
Rapid decompression of neural structures

One-day procedure

Short recovery time and returning to active functioning
COMFORT
Minimally invasive technique under local anesthesia
No postoperative scars
Possibility of treating hernias at multiple levels of the spine during one procedure
CONTROL
Full intraprocedural control using radioscopy, due to X-ray marker contained in DISCOGEL®
No possibility of leakage due to the gel structure of the implant
SAFETY
Without complications: sepsis, inflammation, postoperative pain
Protection of the surrounding tissues
Excellent tolerance: no allergic reactions
INNOVATION
No equivalent technique on the market for symptomatic treatment or surgery
Maintaining the height of the intervertebral disc in time: no intradiscal oppression due to collapse
RELIABILITY
No complications (observations > 5 years)
No recurrence observed (observations > 5 years)
How does a typical spine surgery travel package look like?
1st day – Arrival at Wroclaw Airport, transfer to Jelenia Gora, Hotel check in
2nd day – Arrival at Hospital, full detailed pre-operative assessment & diagnostics – stay in Mercury Hotel
3rd day – Day of surgery – stay Hospital
4th day – Day of recovery – day of discharge from Hospital - stay in Mercure Hotel
5th day – 11th day – specialized spine rehabilitation and physiotherapy
11th day – check-out from hotel - final check-up before return, transfer to airport for your flight back home
The package price includes all inclusive service:
1 hospitalization day in the Neurosurgery Department with doctor care and nurse assistance, drugs
minimal invasive Operative treatment
Preoperative diagnostics: internal medicine (Lab), cardiology
Diagnostic (Echocardiography, EKG), complete lab tests, and neurosurgery consultation
General anesthesia
Meals and medications included while in hospital
Personal host at KCM Clinic dedicated to your travel itinerary and medical travel program
Necessary transportation between hospital and hotel
3 days Hotel stay
« Services